The Enabling Power of Applied Knowledge
Unicare Health is Australia's most respected partner to healthcare professionals, carers and customers. For over 30 years we have been recommending, providing and improving equipment, enhancing quality of life. We have an extensive range of products available online, including
electric wheelchair
rental, as well as mobility aids for sale and hire in Perth, and Australia wide. We also offer hygiene, patient care, and ward & clinic products to the aged care and hospital markets.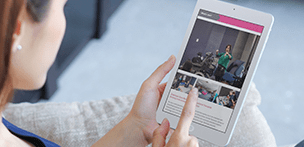 Unicare e-Newsletter
Stay connected with us. There's always something new happening at Unicare Health.
Don't miss out!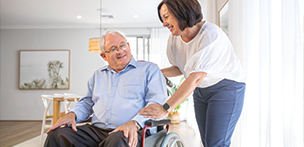 Free Equipment Trials
Enjoy free equipment trials in your own home. Tell us about your needs.
Learn more!
New Retail Catalogue
152 pages of useful tips, inspirational ideas and helpful products.
Get your free copy now!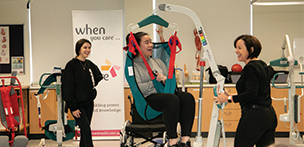 Training Opportunities
Attend one of our winning training seminars. They're free!
Register now!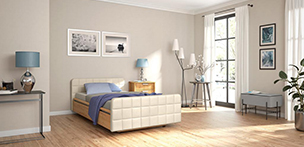 Aged Care Fitout Solutions
View our featured residential aged care fitout projects.
Learn more.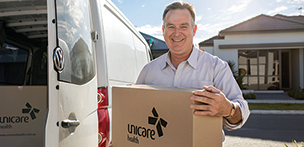 Free Delivery
Retail customers enjoy free delivery Australia-wide for website orders over $100.
Shop online now!
Flexible Hire Options for Mobility Aids and More
We give our customers the option to either hire or buy our products outright so that they can gain the most value from our range. Whether you require
mobility walkers
,
walking aids
or any of our other assistance products, we can arrange a solution for you.
Customised Solutions Tailored to your Specific Requirements
We understand that everybody is unique, with their own set of unique needs. It is for this reason that we customise our products suit your needs and lifestyle. This applies to our wheelchair hire,
electric lift chairs
,
hospital beds
,
mobility scooters
and the rest of our quality range.
How Can We Help you Today?
At Unicare Health we pride ourselves on our exceptional customer service and aim to go above and beyond for our valued clients every time. It is this dedication to customer satisfaction which has led to us establishing ourselves as a trusted name in the industry. Our comprehensive range of quality products have helped many people improve the quality of their life and this is the most rewarding part about what we do.
For those who have any questions or concerns regarding our mobility aidshes for hire and sale, wheelchair rental,
adult diapers
,
walking frames
, or
walking sticks
available in Perth, WA and beyond, feel free to give us a call on 08 9351 7500.